Split File Shell Extension v3.1b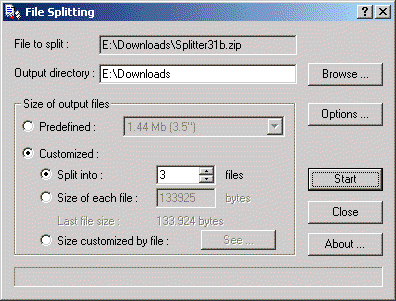 Split File Shell Extension v3.1b splits up a file into smaller pieces, for examlpe for storage on portable media or e-mailing when there are limits on attachment size. It is a shell extension, i.e. it is run from the right click menu in Windows Explorer. The size of the segments can be defined from a list of predefined sizes, by a user defined size, or by a specific number of segments. The split files can be made self assembling, so the receiver does not need any special software to assemble the file again. Download Splitter31b.zip (284 kb), unzip it to a directory and run install.exe to install the program.
Split File Shell Extension v3.1b was written by Laurent Berger.

  Copyright © Christian Rębild 2003-2010, last edited 21-11-2010. To contact me, use my formmail.